intro: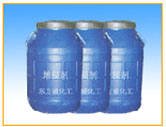 Chemical Element : It is the ammonium salt of crylic acid and acrylate macromolecule interlinkage multipolymer.

Appearance: Yellow or light brown ropy liquid.

PH Value: 1% water liquid is alkalescent.

Transparency: It will be transparent if being baked 3 minutes under 190 ℃ .

Manufacture Specification:
Index Name Index
Appearance Yellow or light brown ropy liquid.
PH Value PH Value of 1% water liquid is 7 or over 7.
Viscidity Not lower than standard products.
Use: Thickening agent and bond can be used in the printing of pure cotton, terylene blended fabric together. The consistency of printing thick liquid can be freely adjusted according to requirements. While improving scrubbing fastness, it still cannot influence the hand feeling of printing fabric.
Remarks: This product cannot bear the electrolyte.